Designs | Touchstone Annual Reports
Touchstone has been exploring formats for their annual reports for the past few years. We have been designing annual reports they need and incorporating their theme at the same time.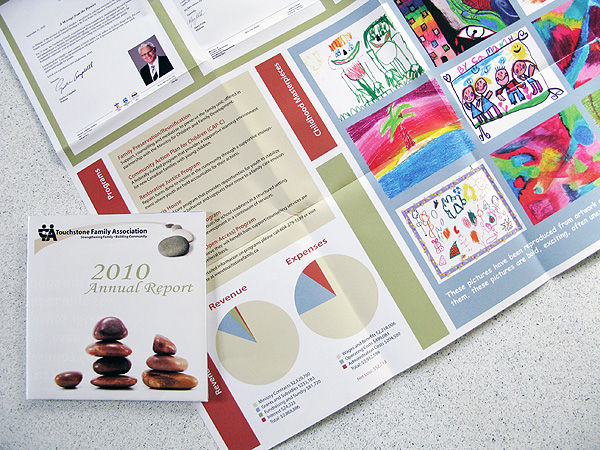 For two years, Touchstone wanted an annual report with a difference. These annual reports are designed like a poster - one side of the report is a large poster, and the other side an annual report. The report is folded up into CD-disc size.
It is their hope that the poster will be displayed which will constantly remind people of Touchstone.
2012 Annual Report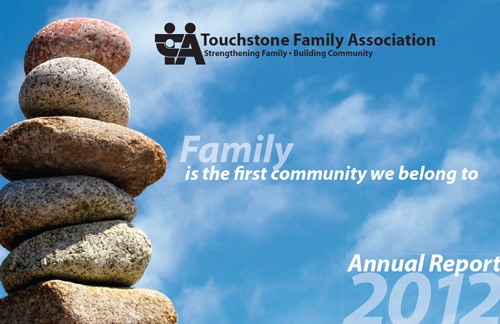 For the 2012 Annual Report, Touchstone wanted to go back to a booklet format, with a lady cycling on a tightrope all through the report. This "lady" is featured in a video promoting Touchstone's Eating Together Campaign. So they'd like her to be in the annual report for the year.
Designs
Northwest Passage Hall of Fame
BC Schizophrenia Society Annual Report
Volunteer Burnaby Annual Report
Volunteer Grandparents Annual Report
BC State of Volunteering Website
Afghan Unsung Heroes Exhibition
VSB Aboriginal Education Agreement
Vancouver School Board District Plan
BC Culturally Welcoming Program
BC Common Ground Alliance (DigSafe)
Vancouver Shaughnessy Lions Club