Designs | Volunteer BC
Volunteer BC required a number of materials for their communications needs, and we have been their designer for a number of years. The designs we have provided include:
Volunteer BC website

This website is maintained by Volunteer BC.

BC State of Volunteering Report website - new version is in design now.

BC State of Volunteering Report

Annual Reports

See below for more info.
Volunteer BC Annual Reports
The Volunteer BC annual reports were given a new look since 2009. The reports are designed to be a set through the years, and each year, the cover features winning photos of the National Volunteer Week Photo Contest.
We also designed a matching bookmark for the 2007-2008 annual report.
Printing of the report is donated, therefore there is a restriction on how many pages the report can contain, and the content pages are always black and white.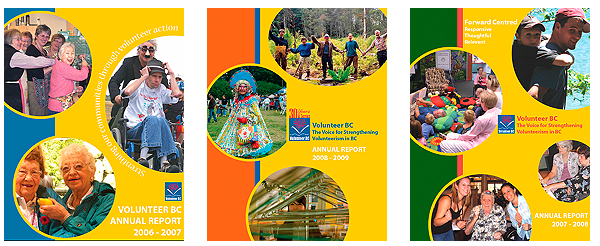 Designs
Northwest Passage Hall of Fame
BC Schizophrenia Society Annual Report
Volunteer Burnaby Annual Report
Volunteer Grandparents Annual Report
BC State of Volunteering Website
Afghan Unsung Heroes Exhibition
VSB Aboriginal Education Agreement
Vancouver School Board District Plan
BC Culturally Welcoming Program
BC Common Ground Alliance (DigSafe)
Vancouver Shaughnessy Lions Club